Dec
22

10. Twin Shadows – Forget Holy Crap this record is catchy. There is one track on here that immediately reminded me of the Knife (steel drums and beats) and I was hooked. The rest of the album doesn't really sound like that, more like the vocals of Robert Smith meets the music of Studio or something, but DAMN is it ever good. 80's new wave and synth pop inspired, and produced by Chris Taylor of Grizzly Bear fame – it has been on repeat on my ipod for AWHILE.
9. Blank Dogs – Land and Fixed Blank Dogs is Mike Sniper who runs the amazing Captured Tracks record label. This guy has been getting so much attention lately, which is great. He has unleashed a flurry of releases over the past couple of years, so quickly it's almost hard to keep up. I am usually a quality over quantity type of guy, so I was skeptical that it would all be equally as good. It is. He does lo-fi blown out staticy garage with joy division type vocals better than anyone out there right now.
8. Bonobo – Black Sands This album is just so listenable. I know a lot of people that just aren't really into the dub side of electronic music, or didn't think they were into electro at all that fell in love with this album. He incorporates some dreamy soulful female guest vocals and jazzy instrumentals so make a really great record. I spin this record at any dance party no matter what the mood and it always goes over well.
7. Crystal Castles – Crystal Castles I love this duo, and I have been waiting for awhile for this one to come out. It ialways sucks when bands rush their second album coming off of a stunning debut, just to keep their name in people's ears, often at the expense of quality tracks. Good to know that Crystal Castles aren't willing to make that compromise. This album is just as solid as the first one, and well worth the wait.
6. Xiu Xiu – Dear God I Hate Myself The latest from one of my all time faves, Jamie Stewart really was an awesome one. The opening track is so beat driven and almost dancey that you just have to sing along, but there is always this awkward moment when you realize that the lyrics you are shouting along with are about about physical violence and emotional abuse and eating disorders and other terrible stuff. He gets at the tense juxtaposition of those two elements better than ever before on this one.
5. Zola Jesus – Stridulum EP and the slew of other stuff she has put out lately. I had the pleasure to see her perform in Austin at this past SXSW and it was definitely one of the highlights of the week for me. Having been pretty into her music for a couple years now, I am so pleased that she has hit her stride and putting out really perfect gut wrenching stuff. I was also so shocked to discover that she is only 21 years old! Her voice is incredibly well trained and the lyrical content of her songs is so dark and mature, it is all the more amazing.
4. Oneohtrix Point Never – Returnal This music is a lot like some of my top faves from 2009, Tim Hecker and Ben Frost and also really arpeggiated like the aforementioned Emeralds release. Drone music with a lot of beepy minimal techno influence and psychadelic stuff going on. This record is a lot more pop oriented than his previous outtings and (like that Twin Shadow release) there is one track on here that I could have sworn was the intro to a Knife song.
3. Emeralds – Does It Look Like I'm Here? This record is so so pretty. Their music hasn't ever before been this blissed out, lots of swirling drone in the background with gurgling arpeggios up front. A soundtrack to one of those Planet Earth type things, but underwater, maybe the coral reef edition.
2. Prince Rama – Shadow Temple Straight forward stoney psychadelic rock. Equiped with chanted vocals and looped sounds, this record it the best of its kind to come out, not just this year, but in many! This is what I was hoping Black Mountain would become, but alas they turned more toward indie/psych/ folk rather than emracing their metal roots.
1. Pantha du Prince – Black Noise This record absolutely ruled my headphones this year. It is good in every mood and for every situation. I also had the cd in my car, I played it a LOT on my radio show, I played it on my ipod at work…it is just plain good. His niche is the perfect balance between minimal techno and a more danceable sound, but there is something that can only be described as post-rock-esque going on. It is a tendency toward the epic and sprawling, the songs often lead toward a crescendo or an abrupt change of pace, which is unusual in mininmal house music and really does the trick here.
——————–
The first ten I feel VERY strongly about. These are the albums that I listened to a shit ton, but I think are a tier down from the top ten.
11. Best Coast – Crazy for You
12. Marnie Stern – Self Titled
13. Teenage Fantasy – CD-R release, I have no idea what this one is properly called, and I don't think they have a proper release yet…but be on the lookout.
14. Joanna Newsom – Have One on Me
15. Flying Lotus – Cosmogramma
16. Ariel Pink's Haunted Graffiti – Before Today
17. White Hinterland – Kairos – This is the one record down here that I think maybe should be in the top ten. But that would make it a top 11, so that wouldn't work. This is different than her previous stuff, ethereal and cathcy…check it out.
18. Grinderman – 2
Nov
10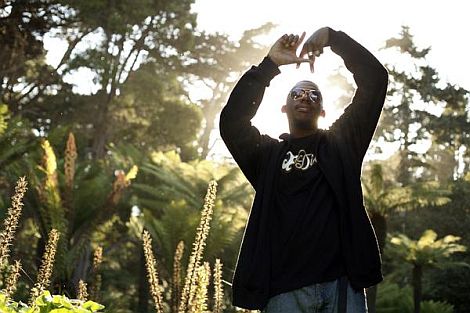 Flying Lotus's third full-length, Cosmogramma, was released in May of this year. FlyLo's personal sphere of inspiration while making the record reportedly gravitated around his own mother's untimely death, and it's probably now appropriate to mention the Los Angeles beat-maker's blood connection to Alice and John Coltrane, as their astral inspired brand of free jazz seemed to be an important musical signpost Steven Ellison aspired to channel on the record (Cosmogramma refers to a lecture Alice Coltrane gave). Trane's son Ravi can even be heard with a tenor sax on two of the seventeen tracks. With this in mind, it's a good guess Cosmogramma is much more inspired by the Coltranes or even Sun Ra rather than FlyLo's contemporaries. The new exploration of sound was a bold move, and one that more than paid off. Flying Lotus has managed to transcend the sound and scene he helped create by completely stepping into a realm beyond the general approach of electronic music.
Cosmogramma itself flows as a singular experience. It creates a context that lives up to it's astral-based name, born from a place that feels more connected with spiritualism, psychedelia, place and time. Something to fall into. The scene from which it was born still remains though, it's just hard to imagine anything like this coming from something built upon a collective. It boasts Flying Lotus's vision as a producer and musician. There's a moment with some records where you feel the music is really only a means to an end. Where the musician's voice is alluding to something deeper and bigger instead of just pulling back a curtain to show you a couple songs they made, which in most cases could describe (however fantastic) the sound that's come out of LA in the wake of Flying Lotus's Los Angeles. Or even electronic music as a whole. It's something historically relegated to high concept music, definitely not hip-hop inspired beats.
As I mentioned in Part I, J Dilla's Donuts was a sort of opus for his experience and memories. And feels like that in how cyclical and fleeting it is. Dilla is known for aesthetics, but it's that element of Dilla's musical voice that lasts, especially as a statement right before his death. Flying Lotus has built that into his own music, starting with Los Angeles and making it completely his own with Cosmogramma. It's easier to talk about how Dilla's "submerged" bass lines or FlyLo's off-beat programming helped create something new in electronic music (it's definitely important) than how these guys have brought something unique and highly affecting in regard to their personal outlook and perspectives, communicated through their music. But, oh well, I guess. In the end the musical experience speaks for itself. What's the point of trying to force it into words (like I'm doing right now)? Listen to the records.
With all that said, in 2010 Los Angeles still stands and Flying Lotus's Brainfeeder record label is in a prolific infancy. More than a few talented producers have come out of the city or are making their name as apart of the Brainfeeder crew. Here are a couple of my favorite records out of that scene from this year: